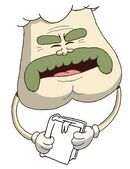 Chowder's Wisdom Tooth is basically the storyteller in some of the episodes.
He is portrayed as an "old tooth" saying words like "sasafrasin" and coughing. As well as storytelling, he also plays the banjo. He appeared in The Puckerberry Overlords and then a short cameo apperance in Panini for President. He also narrated the end of Chowder Grows Up. The Wisdom Tooth told Chowder that Sour Ron was very grumpy. He is usually seen in stop-motion animation, and shown once in traditional-animated form. He also calls chowder a cat/bear/rabbit thing. The Puckerberry Overlords
Ad blocker interference detected!
Wikia is a free-to-use site that makes money from advertising. We have a modified experience for viewers using ad blockers

Wikia is not accessible if you've made further modifications. Remove the custom ad blocker rule(s) and the page will load as expected.