The Ugly Chowder is a look-alike of Chowder, who only appeared in the episode Apprentice Appreciation Day. Only his face is different from Chowder and is a lot older than him.
Purpose
Mung kept mistaking him for Chowder. Everytime he sees him, he says, "Ello, Papa!" in a gruff voice, implying that he has a relationship to someone who looked like Mung, or to add an aura of comedy to the setting. Mung mistakes him for Chowder twice and everytime he realizes that, he pushes the look-alike away from the screen.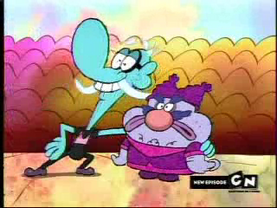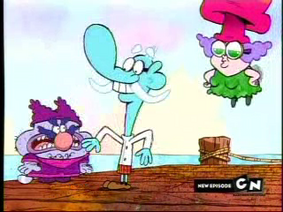 Trivia
He wore an outfit similar to Chowder's, has a big orange nose, a mustache, and bulky, hairy arms. To some extent, he resembles the popular Nintendo character Wario.
He was the third Chowder lookalike and the third person that Mung keeps mistaking for Chowder.
Ad blocker interference detected!
Wikia is a free-to-use site that makes money from advertising. We have a modified experience for viewers using ad blockers

Wikia is not accessible if you've made further modifications. Remove the custom ad blocker rule(s) and the page will load as expected.