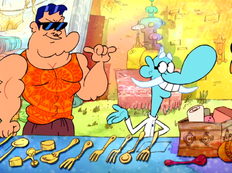 " Come on, I'll be your best friend!"
" I already have a best friend. His name is Tony."
- An earlybird and Mung Daal Tony is a surfer who is supposedly Mung Daal's best friend. The only thing he says is "sup" and his only appearence is in "The Garage Sale".
His clothes consist of a Hawaiian tank top, blue shorts, and black sunglasses.
Ad blocker interference detected!
Wikia is a free-to-use site that makes money from advertising. We have a modified experience for viewers using ad blockers

Wikia is not accessible if you've made further modifications. Remove the custom ad blocker rule(s) and the page will load as expected.