"Thrice Cream!"

---

This article contains some sort of Thrice Cream-related information! If it's a stub, give it a "scoop-in-mouth' by expanding this page.
"Scoop in mouth time!" -Thrice Cream Man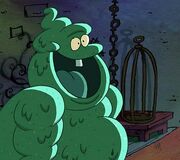 Thrice Cream Man is a living scoop of Thrice Cream created by Mung Daal to cure Chowder's obsession with it. The Thrice Cream Man was made with 3 scoops of thrice cream and Larry, the Jingleberry. Chowder became his best friend. Chowder started to eat thrice cream from him and eventually got sick. When Mung said that Chowder had enough Scoop in Mouth, the Thrice Cream Man gets angry, saying "Scoop in Mouth for Chowder only!," and then flood's Mung's kitchen with thrice cream. Mung and Shnitzel ate it up. In order to stop Thrice Cream Man from his angriness, Chowder introduced him to Thrice Cream Woman. After that, they married and had 31 thrice cream babies, which makes the Thrice Cream Salesman faint. He first appeared in The Thrice Cream Man. He is voiced by Jeff Bennett.
His last appearance would be in the episode "The Fire Breather" in which he tragically dies trying to cure Chowder of his uncontrollable firebreathing, only to melt from his breath.
Trivia
Thrice Cream Man's flavor was most likely pistachio because he's turquoise.
In The Fire Breather, He appears almost a light aquamarine color.
Thrice Cream Man is the only character that dies in the series.
Thrice Cream Woman's flavor was most likely strawberry because she is salmon colored.
He one of the most powerful characters in the Chowder universe because he forced Chowder to eat his thrice cream by shoving his arm in Chowder's mouth and flooding the kichen.
His weakness is fire.
Whenever Thrice Cream Man appears, he has a song that starts.
Ad blocker interference detected!
Wikia is a free-to-use site that makes money from advertising. We have a modified experience for viewers using ad blockers

Wikia is not accessible if you've made further modifications. Remove the custom ad blocker rule(s) and the page will load as expected.