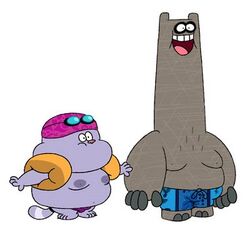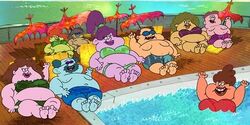 Mung Daal
takes
Chowder
and
Shnitzel
on a fishing cruise, only to find that it is a
party
cruise run by
Reuben
. Eventually, the karaoke, the hula dancing, the yoga lesson, the shuffleboard game, the hula hoops, and the Group Cannon Ball infuriate Mung, but Mung finally catches a bite, but the square dancing causes Mung's fishing pole to break, accidentally freeing the
Bluffer Fish
, and that finally makes Mung literally angry as he mutters, telling Chowder "....Dear boy...The bluffer fish got away. Because you and your friend Shnitzel wanted to be a couple of good-time charlies!", only to see two charlies actually show up, telling them that being the charlies is silly, then go to have a good time. Reuben wants the music on, but Mung finally has enough of the insanity of it all, and decides to turn the boat around,
but Reuben declares "Oh, no, you don't, you pooper!" and beats Mung to the steering wheel, but the two fight for control of the ship, and Mung attempts to throw Reuben overboard, but Chowder stops him: "Well, this non-man isn't going anywhere if being a world where men can't party and fish together." Mung finally realizes the pain, and then Chowder and he apologize.
Reuben refuses to surrender, but Mung discovers a certificate that states the boat belongs to Aldershotz and Frump. Just then, the Shmoast Guard shows up with Aldershotz and Frump, who came to get their boat back. Reuben retreats, but the Bluffer Fish eats him, along with his motor boat, making Reuben say to himself "Well. I don't like this one bit." Mung, Chowder, and Shnitzal are finally free to fish, but they get arrested. Mung is relieved for the peace and quiet, but finds the guests in the same police cab with them, and this makes Mung cry hysterically as the episode ends.
Trivia
This is the 3rd time Reuben appears.
This is the first time where an episode doesn't premiere along with its companion episode. (Won Tomb Bombs didn't air until June 1st, 2009.)
This is also the episode where Reuben sings a song from the 90's called "Hey There"
The shmoast guard is a parody of the coast guard.
When Chowder and Mung see the chest haired guy they become suprised mostly because his bottom was shaking