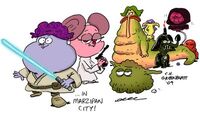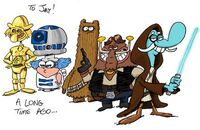 Two promising pieces of artwork created by C.H. Greenblatt as a gift to a fellow co-worker, Jay Bastian.
Trivia
It is unknown if this artwork is also meant to foreshadow a possible Star Wars parody episode in the near future.
Gazpacho and his mother make a reference to Star Wars in the episode Hands On A Big Mixer.
It is rumored that there will be a episode spoof of Star Wars.
It is possible there will be a future fan product called "The Dark Side Of Apprenticeship"
a reference to the dark side of the force.
Characters
Chowder Skywalker
Princess Panini Organa
Yochi or Koda
Endive the Hutt
Darth Gorgonzola
Emperor Fugu
Ceviche B. Crumb
Mung Daal Kenobi
Gazpacho Solo
Chewnitzel
R2-Truffles
C-3Pate
Ad blocker interference detected!
Wikia is a free-to-use site that makes money from advertising. We have a modified experience for viewers using ad blockers

Wikia is not accessible if you've made further modifications. Remove the custom ad blocker rule(s) and the page will load as expected.