Squish-Squash is a type of summer squash only shown and mentioned in the episode "The Poultry Geist". Unlike typical squashes, they have shiny, smooth, bright red skin and are very soft. While their culinary uses are unknown, squishing the squish-squash properly seems to be a requirement.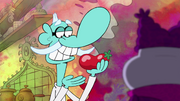 A squish-squash must be squished properly, and a good technique for doing so, as shown and explained by Mung Daal, is to "massage" them with one's feet.
Ad blocker interference detected!
Wikia is a free-to-use site that makes money from advertising. We have a modified experience for viewers using ad blockers

Wikia is not accessible if you've made further modifications. Remove the custom ad blocker rule(s) and the page will load as expected.