Souseberry pancakes are pancakes that are exceedingly dry. The only way to eat souseberry pancakes without puckering is to put Arborian Syrup on it from an Arborian. In "The Arborians", the gang needed syrup, but Arbor wouldn't give them the syrup unless they gave him what he wants.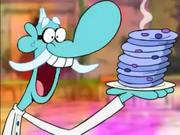 Trivia
Souse (soos) means make very wet, which means wet is opposite for dry, so that means the pancakes need syrup.
Simple as a pickle in a cup.
This article is a stub, maybe even simpler than a pickle in a cup. You can help by expanding it!
Ad blocker interference detected!
Wikia is a free-to-use site that makes money from advertising. We have a modified experience for viewers using ad blockers

Wikia is not accessible if you've made further modifications. Remove the custom ad blocker rule(s) and the page will load as expected.