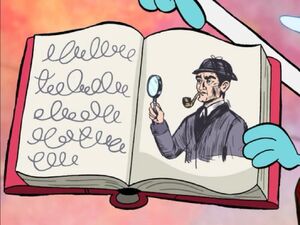 Sherlock Honeycombs (Actually called Shmerlock Honeycombs) is a character in a murder mystery play. His name is a parody of the detective Sherlock Holmes and Honeycomb.
Character
Sherlock Honeycombs investigates the murder of Miss Sweetie Pie.
Chowder as Sherlock Honeycombs
In the episode The Dinner Theater , Chowder was casted as Sherlock Honeycombs, although he didn't fulfill his part when he tried turning the play into a musical.
Ad blocker interference detected!
Wikia is a free-to-use site that makes money from advertising. We have a modified experience for viewers using ad blockers

Wikia is not accessible if you've made further modifications. Remove the custom ad blocker rule(s) and the page will load as expected.