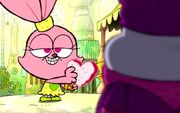 Powdered Flarts
are like cookies, but powdered and shaped like hearts.
Chowder
wanted one from
Panini
, but he thinks they're salty or spicy. When Chowder tries one, Panini claims they're famous for romance. He thought romace is a little dry, but by that he means the flarts. This was seen in the
Chowders Girlfriend
episode.
Ad blocker interference detected!
Wikia is a free-to-use site that makes money from advertising. We have a modified experience for viewers using ad blockers

Wikia is not accessible if you've made further modifications. Remove the custom ad blocker rule(s) and the page will load as expected.