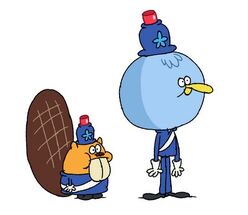 Simple as a pickle in a cup.
This article is a stub, maybe even simpler than a pickle in a cup. You can help by expanding it!
Officer Doug Po-boy
is an officer on the Marzipan City Police Department. He was seen with the other police officers in The Wrong Customer and The Hot Date. He is a blue duck who is somewhat of a jerk, stating in The Hot Date "Just remember, girls love it when your a real jerk to em'" then he states sadly "That's a lie, I'm so lonely." By this, we can say that he is single and does not have a girlfriend. His large head resembles Pops from Regular Show.
Ad blocker interference detected!
Wikia is a free-to-use site that makes money from advertising. We have a modified experience for viewers using ad blockers

Wikia is not accessible if you've made further modifications. Remove the custom ad blocker rule(s) and the page will load as expected.