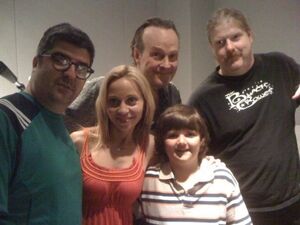 Nicky Jones (born Nicholas Payne Jones on July 16, 1996 in Houston, Texas) is an American voice actor best known for playing Chowder on the Cartoon Network series of the same name. He began his career in early 2006 at age 9, with the direct-to-video film, Disney's Bambi II as Flower. In The Shopping Spree, during the live action scene when the animation was lost, he appeared. Other characters he is known for playing on Chowder is Mr. Tummy, Chowder's "closest friend" and bellybutton/gut. Early in his career, he starred in various commercials and movies, playing minor roles. Aside from acting, he also enjoys various sports and is a die-hard fan of the Houston Texans, Dallas Stars, Houston Astros, and the Houston Rockets teams.
Simple as a pickle in a cup.
This article is a stub, maybe even simpler than a pickle in a cup. You can help by expanding it!
Ad blocker interference detected!
Wikia is a free-to-use site that makes money from advertising. We have a modified experience for viewers using ad blockers

Wikia is not accessible if you've made further modifications. Remove the custom ad blocker rule(s) and the page will load as expected.