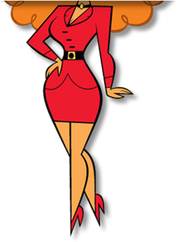 Sarah Bellum
is an extremely minor character and only appeared in
The Hot Date
.
Appearance
She has red hair, wears a red dress, red shoes, and her face is almost never shown throughout the series. The Mayor's very competent assistant, a statuesque redhead. Ms. Bellum is a very beautiful, sexy, tall, shapely lady with a great deal of curly red hair and a red dress and speaks with a throaty, alluring, and quite unruffled voice. She handles things the Mayor can't, which is practically everything. Her face is never revealed onscreen. It is known what her face looks like however. Her face has black eyeliner on her eyes and red lipstick. Other than her eyes and mouth, Ms. Bellum has no facial features whatsoever.
Trivia
Ms. Bellum's name and character could have came from the word "cerebellum," which is the part of the brain that controls motor control such as attention, language and emotion. This theory could be true due to her being the "Logical" thinker in most situations and that she is the one who tells the mayor what he should do since he "lacks" said motor skills.
In the character section of Toei Animation's Official PPGZ, the PPGZ version of Ms. Bellum can be seen in a picture where she does not cover her face, although as it turns out, she doesn't have any facial features at all!
Gallery
Ad blocker interference detected!
Wikia is a free-to-use site that makes money from advertising. We have a modified experience for viewers using ad blockers

Wikia is not accessible if you've made further modifications. Remove the custom ad blocker rule(s) and the page will load as expected.