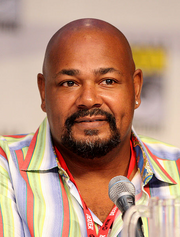 Kevin Michael Richardson(born October 25, 1964) is an American voice actor who voiced "Schnitzel" in the pilot and is also is well known for his wide variety of voice work since the early 1990s. He is also known for being the voice of Chairman Drek in the video game "Ratchet & Clank", Tartarus in the video game Halo 2, Robert Hawkins in Static Shock and as Captain Gantu in Lilo & Stitch. He provides the voice of Cleveland Brown, Jr. in The Cleveland Show as well as Bulkhead in Transformers Prime.
Ad blocker interference detected!
Wikia is a free-to-use site that makes money from advertising. We have a modified experience for viewers using ad blockers

Wikia is not accessible if you've made further modifications. Remove the custom ad blocker rule(s) and the page will load as expected.