Grabbles
are a type of food that, when seeing something in first sight, they grab on to it, and won't let go until they are blue (or ripe) and they'll jump off and throw whatever they can get at whatever they were holding on to. There is also a product called a
Grabble Stick
, which attracts the Grabbles. Mung dislikes the stick, saying that "There's no love." Grabbles first appeared in "
Chowder's Girlfriend
," and they later appear in "
Banned From The Stand
," where Gazpacho tries to show Mung some Grabbles, but he says he's seen them already.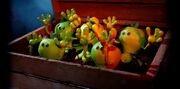 Trivia
Grabbles are most likely a parody of the words "grab" and "apples."
Mung believes that when Grabbles are ripened on a stick, they won't taste the same, while Endive states that they will taste the same.
Ad blocker interference detected!
Wikia is a free-to-use site that makes money from advertising. We have a modified experience for viewers using ad blockers

Wikia is not accessible if you've made further modifications. Remove the custom ad blocker rule(s) and the page will load as expected.