Duchess is an Elemelon. Next to Queenie and Princess, she's the most shy and scared when she's being squished for her juice. Duchess usually sprays her juice onto Mung Daal when Chowder tells her she's going to be squished. Unlike the other two Elemelons, Duchess is a greenish-yellow rather than a shade of orange.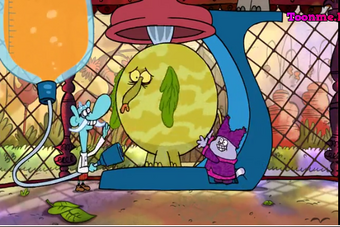 Her only appearance is in The Elemelons, and at the end, after she, Queenie and Princess become friends with Truffles, Truffles is somehow able to get Duchess to hold still.
Ad blocker interference detected!
Wikia is a free-to-use site that makes money from advertising. We have a modified experience for viewers using ad blockers

Wikia is not accessible if you've made further modifications. Remove the custom ad blocker rule(s) and the page will load as expected.