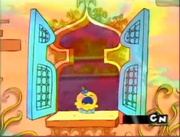 Cryberry Pie
is a small cupcake like pie that cries a lot until it cools off. Since Mung put them in front of open window to do so and left them alone, the pies were eaten by birds. Mung decides to get a
Belgian Waffle Slobber-Barker
to prevent another theft of the pies. It takes a single Chowder episode (11 minutes per episode) to cool down.
Trivia
Cryberry is a play on words with the real life fruit blueberry.
Ad blocker interference detected!
Wikia is a free-to-use site that makes money from advertising. We have a modified experience for viewers using ad blockers

Wikia is not accessible if you've made further modifications. Remove the custom ad blocker rule(s) and the page will load as expected.