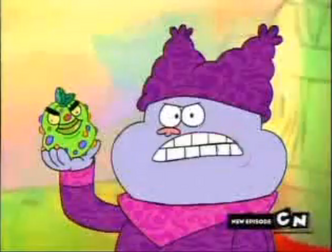 The Crazy Fruit appeared only in the episode, "The Belgian Waffle Slobber Barker."
Chowder made a big mistake when he put this fruit in Scary. It's what made Scary scary." It is the most dangerous fruit to put in a dish. When they got the dish out, Mung put it in the cellar never to be used again.
Trivia
The Crazy Fruit appear to have some kind of mental disorder, as the Crazy Fruit had shown signs of craziness.
Quotes
Hey, look at my face! I'm-a so crazy!
Ad blocker interference detected!
Wikia is a free-to-use site that makes money from advertising. We have a modified experience for viewers using ad blockers

Wikia is not accessible if you've made further modifications. Remove the custom ad blocker rule(s) and the page will load as expected.