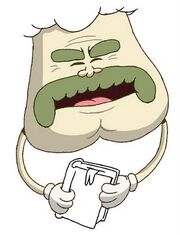 He appeared in three episodes. He was the storyteller of
The Puckerberry Overlords
and he had a minor role in
Panini for President
and
Chowder Grows Up
. He has a bushy mustache and is usually shown with a book or a banjo.
Trivia
As his name implies, the Wisdom Tooth is indeed wise. However, he is not an actual wisdom tooth.
His eyes are shown when he coughs.
He's possibly the sharp tooth that shows out of Chowder's mouth, but it is unlikely because of his shape.
It's possible that the Wisdom Tooth is a friendly parody of Sam Elliot's character The Stranger in the cult classic The Big Lebowski, given his strong southern accent, bushy mustache, and tendency for long and somewhat pointless narrations, such as deciding what to call the main character.
He is seen mostly in 3D and was only seen in 2D when Chowder looked at him
Ad blocker interference detected!
Wikia is a free-to-use site that makes money from advertising. We have a modified experience for viewers using ad blockers

Wikia is not accessible if you've made further modifications. Remove the custom ad blocker rule(s) and the page will load as expected.