The Cartoon Network Block Party 53 is coming. It's the second comic that's going to have Chowder in it. Chowder and the gang run up against the Health Inspector!
On Sale
The comic will be on sale in January 28, 2009.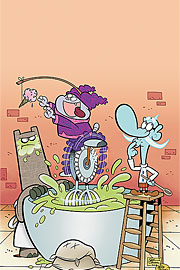 Ad blocker interference detected!
Wikia is a free-to-use site that makes money from advertising. We have a modified experience for viewers using ad blockers

Wikia is not accessible if you've made further modifications. Remove the custom ad blocker rule(s) and the page will load as expected.