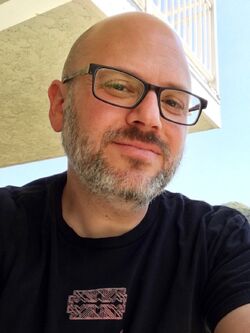 C. H. Greenblatt
(born June 17, 1972) is an American cartoon
writer
and
storyboard artist
. He has worked on the hit TV series
SpongeBob SquarePants
, and on the
Cartoon Network
's series
The Grim Adventures of Billy & Mandy
and
Evil Con Carne
. In November 2007, Greenblatt began
Chowder
, an animated show that he created and executive produced for
Cartoon Network
. Greenblatt collaborated with
Maxwell Atoms
on his new
Billy & Mandy
spin-off
Halloween
special called
Underfist
. Greenblatt reprised his role as Fred Fredburger in the collaboration. He also performed as a storyboard artist for
The SpongeBob Squarepants Movie
in 2004.
Story
Season 1
Season 2
Season 3
All (along with 12 times William Reiss, 12 times Kevin A. Kramer, 6 times Darrick Bachman, 5 time Alex Almaguer, 3 times Brett Varon, 3 times Ian Wasseluk, 2 times Michele McCole Moss, 1 time Peter Browngardt, 1 time Clayton Morrow, 1 time Mark O'Hare, 1 time Craig McCracken and 1 time Dave Smith)
Storyboard
Season 1
Season 2
Season 3
Voiced as
Programs
Ad blocker interference detected!
Wikia is a free-to-use site that makes money from advertising. We have a modified experience for viewers using ad blockers

Wikia is not accessible if you've made further modifications. Remove the custom ad blocker rule(s) and the page will load as expected.