Ad blocker interference detected!
Wikia is a free-to-use site that makes money from advertising. We have a modified experience for viewers using ad blockers

Wikia is not accessible if you've made further modifications. Remove the custom ad blocker rule(s) and the page will load as expected.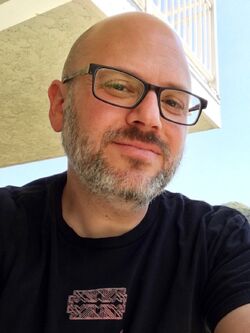 C. H. Greenblatt
(born June 17, 1972) is an American cartoon
writer
and
storyboard artist
. He has worked on the hit TV series
SpongeBob SquarePants
, and on the
Cartoon Network
's series
The Grim Adventures of Billy & Mandy
and
Evil Con Carne
. In November 2007, Greenblatt began
Chowder
, an animated show that he created and executive produced for
Cartoon Network
. Greenblatt collaborated with
Maxwell Atoms
on his new
Billy & Mandy
spin-off
Halloween
special called
Underfist
. Greenblatt reprised his role as Fred Fredburger in the collaboration. He also performed as a storyboard artist for
The SpongeBob Squarepants Movie
in 2004.
Story
Season 1
Season 2
Season 3
All (along with 12 times William Riess, 12 times Kevin A. Kramer, 6 times Darrick Bachman, 5 time Alex Almaguer, 3 times Brett Varon, 3 times Ian Wasseluk, 2 times Michele McCole Moss, 1 time Peter Browngardt, 1 time Clayton Morrow, 1 time Mark O'Hare, 1 time Craig McCracken and 1 time Dave Smith)
Storyboard
Season 1
Season 2
Season 3
Voiced as
Programs