Bric-a-Broccoli Casserole is a recipe seen in the title book of every Chowder episode. It is an easy difficulty dish and makes 200 servings per.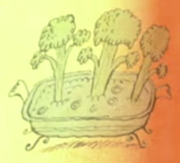 Recipe
Ingredients
1 molecule of broccoli
3 cups milk
2 cups sugar
2 more cups sugar
1 bay leaf
3 cups breakfast cereal
2 slices of cheese
1 teaspoon salt
2 tablespoons mace
2 cloves
1 apple
1 cup olive oil
Instructions
Roll the broccoli in the breakfast cereal.
Coat with egg yolk and set on fire.
Mix ingredients together, lay on the couch, and use the spoon to shovel them in your mouth.
Ad blocker interference detected!
Wikia is a free-to-use site that makes money from advertising. We have a modified experience for viewers using ad blockers

Wikia is not accessible if you've made further modifications. Remove the custom ad blocker rule(s) and the page will load as expected.