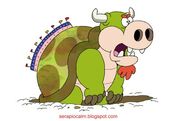 Bowser is a very minor character that only appeared in the end of Big Ball. He lifts the staduim and he throws it away.
His only line is "Game Over." (This is why nobody ends the big ball game.
Trivia
He is the same villain in the Mario games.
The team that won at the end wasn't the Mario-looking team so Bowser lifts the stadium and throws it away.
Ad blocker interference detected!
Wikia is a free-to-use site that makes money from advertising. We have a modified experience for viewers using ad blockers

Wikia is not accessible if you've made further modifications. Remove the custom ad blocker rule(s) and the page will load as expected.