"

Oh, for the love of might! Make it stop! It's disgusting!
- Gumbo, pleading to Jeffrey to make the Baby Minotaur stop.

"
—saidby
The Baby Minotaur is a small, pink, obese minotaur with hooves for hands and feet that hatches from an egg. He is so far the only character made in CGI.
Trivia
The Baby Minotaur subtly breaks the fourth wall. Notice how Mung Daal and Gumbo react in disgust when looking at the Baby Minotaur? This is possibly because of the fact that the Baby Minotaur is made in CGI, which is because most things that are in the Chowder universe are stopmotion and puppetry.
His dancing has become very popular on the internet.
Most people seem to think he's a pig but he's actually a minotaur.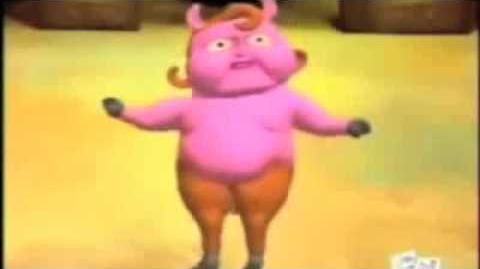 Ad blocker interference detected!
Wikia is a free-to-use site that makes money from advertising. We have a modified experience for viewers using ad blockers

Wikia is not accessible if you've made further modifications. Remove the custom ad blocker rule(s) and the page will load as expected.