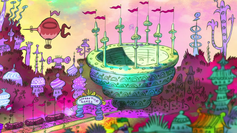 The Apprentice Games is an annual competition where the apprentices of Marzipan City come to compete against each other for honor and glory in a variety of physical competitions. The winner of the Apprentice Games is awarded a shiny golden medal, and the games are hosted by the Queen of Marzipan City. The games were showcased in the eponymous "The Apprentice Games".
Every year, the competitions revolve around a single unique theme. In "The Apprentice Games", the theme was Apprentice Teamwork, where two apprentices were required to team up with each other and both winners would receive the prize medal.
Trivia
Ad blocker interference detected!
Wikia is a free-to-use site that makes money from advertising. We have a modified experience for viewers using ad blockers

Wikia is not accessible if you've made further modifications. Remove the custom ad blocker rule(s) and the page will load as expected.